The OPTN/SRTR Annual Data Report
Statistics on donation and transplantation in the United States
Since the mid-2000s, there have been over 25,000 transplants per year in the United States. In fact, 2022 saw over 40,000 transplants performed that year. Yet, every 10 minutes, someone is added to the transplant waiting list.
The Annual Data Report, developed by SRTR and the Organ Procurement and Transplantation Network (OPTN), includes chapters on kidney, pancreas, liver, intestine, heart, and lung transplantation; a chapter on deceased organ donation; and chapters on varying special topics (eg, COVID-19, vascularized composite allograft). The organ-specific chapters include information on topics such as the waiting list, organ donation (deceased and living donors), transplant, immunosuppression, outcomes, and pediatric transplant. When possible, similar data and formats are used for each chapter. However, this is not always possible because some data are not pertinent to all organs.
Graphical presentation of the data is emphasized: more than 600 figures (including maps) and tables are included in the various chapters. Chapters and graphics can be downloaded from srtr.transplant.hrsa.gov. The data behind the graphics are downloadable in a spreadsheet format from the American Journal of Transplantation.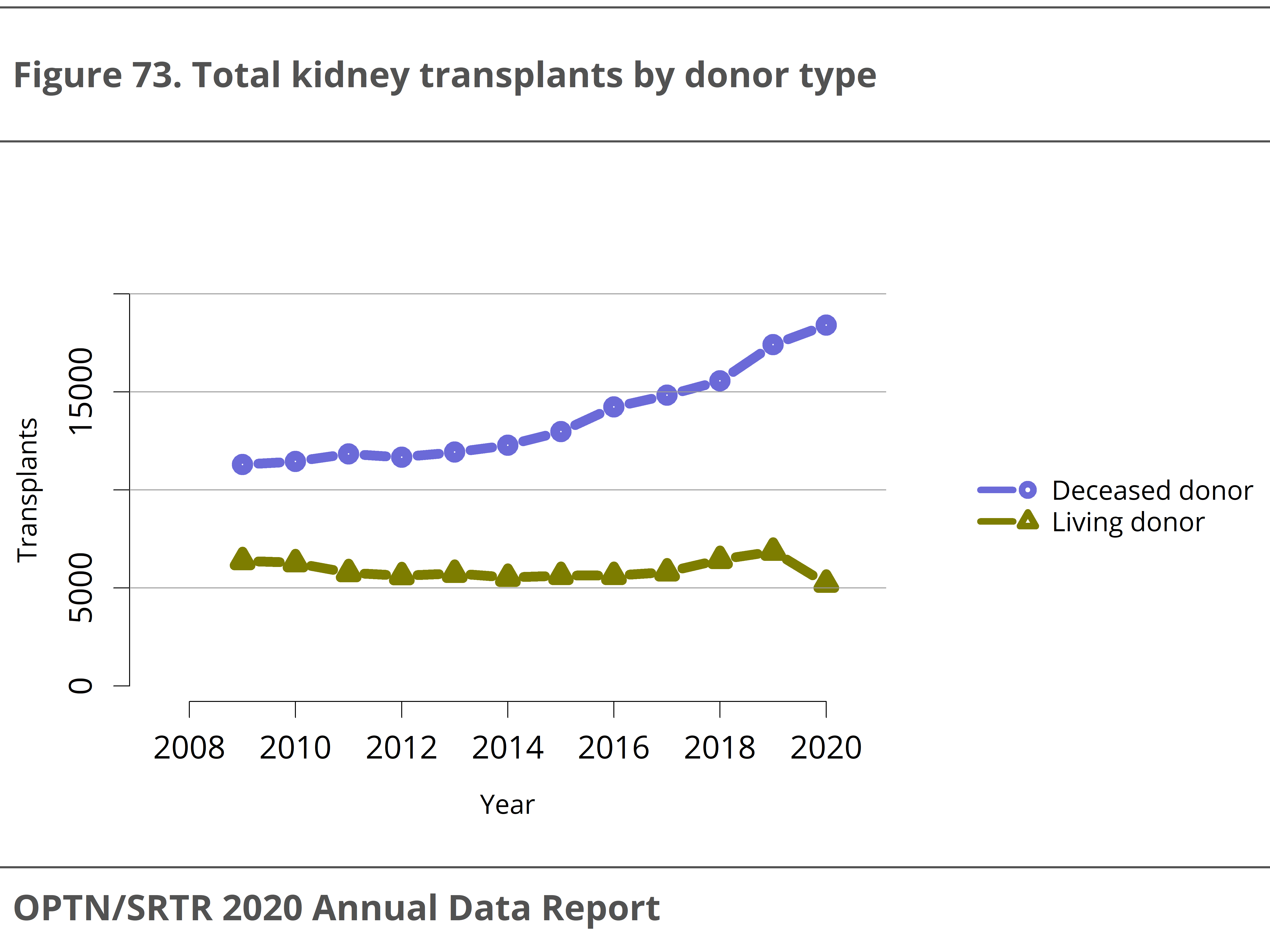 As an example, the figure on the left, from the 2020 kidney chapter, shows numbers of deceased donor and living donor transplants from 2008 through 2020. In total, 23,642 adult and pediatric transplants, including multiorgan transplants, were performed in the United States in 2020.
Learn more from our Annual Data Report
National statistics on transplants provide a touchpoint for comparing and evaluating individual transplant programs. SRTR analyzes data collected by OPTN on all solid organ procurement organizations and transplant programs in the United States. Our detailed Annual Data Report analyzes solid organ transplants nationally by organ.
Current Report
Reporting Period: 01/01/2010 - 12/31/2021
Report Published: 03/02/2023
Next Update Due: 01/09/2024
---
---